CentralApp offers different tools to add to your website to allow your customers to make reservations. You can use the provided booking form, integrate an external booking service or enable booking by phone .
Booking via a simplified booking form
The integrated booking form in CentralApp allows you to receive bookings directly via the platform as well as via email and to confirm them easily from CentralApp.
Many parameters can be configured via this form:
Minimum and maximum number of guests per reservation
How long before the chosen time the customer can book
The frequency of reservations (15min, 30 min, 1h)
The duration of the reservation
The email address where you receive the requests
Up to how long in the future you accept reservations
It is also possible to set a reservation time different from your opening hours and to add exceptional reservation times if these change for a short period.
Accept and refuse a reservation
As soon as your customer sends a reservation request, you will receive it in your mailbox as well as in the inbox of CentralApp.
From your mailbox, you have to click on the link "Confirm reservation" to be able to accept or decline it. You will then be redirected in the CentralApp application to the inbox with the reservation in question.
From this inbox, you can accept or decline the reservation by clicking on the corresponding button.

It will then be possible to enter a personalized message. This is optional.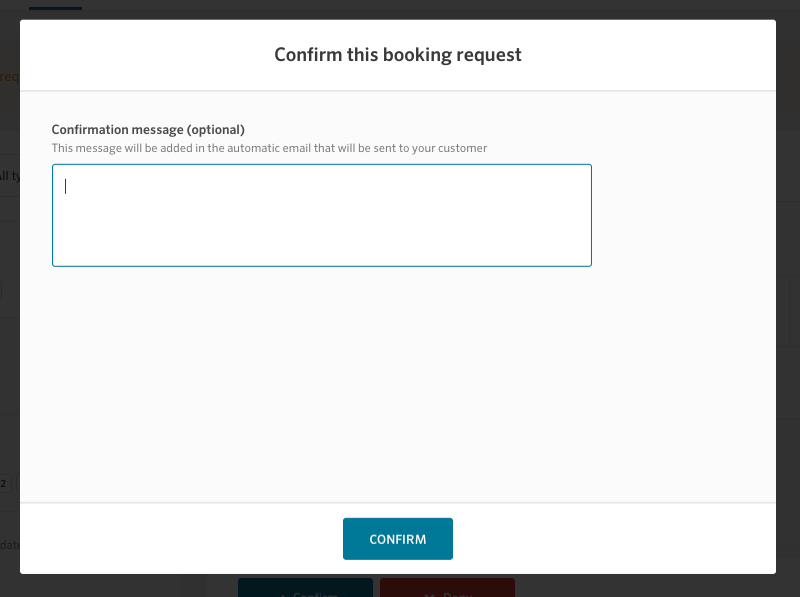 Once the reservation has been confirmed, the client will receive an automatic email telling him/her that the reservation has been accepted or refused.
Reservation via a specialized tool
CentralApp also allows you to use external reservation platforms that you may already use. We integrate modules from TheFork, Dish, TableBooker, Resengo or Zenchef.
To activate it, go to the "Table booking" module in the "Information & Settings" tab, then click on "Integration of an advanced solution" in the "Online bookings " section.

Then you just have to choose your reservation partner and enter your login or the URL of the existing module to activate it on your website.
The module will then be directly available on the "Table booking" page of your website.
Reservation via a phone number
CentralApp also offers the possibility to make a reservation via a telephone number. You can activate this by checking the corresponding box. By default the phone number will be the one used in "Basic information". If you have a separate line for reservations or you want another phone number to be displayed for reservations, you can add it in the dedicated space.
This will be displayed in the "Table booking" tab of your website.