About
CentralApp allows your company to recruit new people to your team.
From the platform it is possible to publish detailed job offers. Each candidate can apply by attaching a cover letter and a CV in PDF.
In order to personalize your hiring page on the website or to explain how the recruitment process works, you have a space to write a description in the recruitment module. This description will be visible on the hiring page of the website.
Create a job offer
To create a job offer, you must go to the "Hiring" module in the "Website editor" tab.
You will then have the possibility to add a job offer by clicking on the button "Add a position". You will then have to fill in the following information:
Title of the job
Type of employment: full time, part time, intern, etc.
Detailed description of the position
Experience and requirements needed to apply
Benefits & salary information
You also have the possibility to add a specific email address if you wish to receive the application elsewhere than in the mailbox of the address given in the basic information.
You can also publish several job offers at the same time.
Open application
If you are not looking for a specific profile but are open to the idea of recruiting new members to your team, it is possible to activate unsolicited applications.
Unlike the job offer, there will be no job description but only the form that the candidate will have to fill in with his contact information, a letter of motivation and his CV in PDF.
To activate this, you just have to check the box "Allow open applications" and "Enable" in the "Hiring" module in the "Website editor" tab.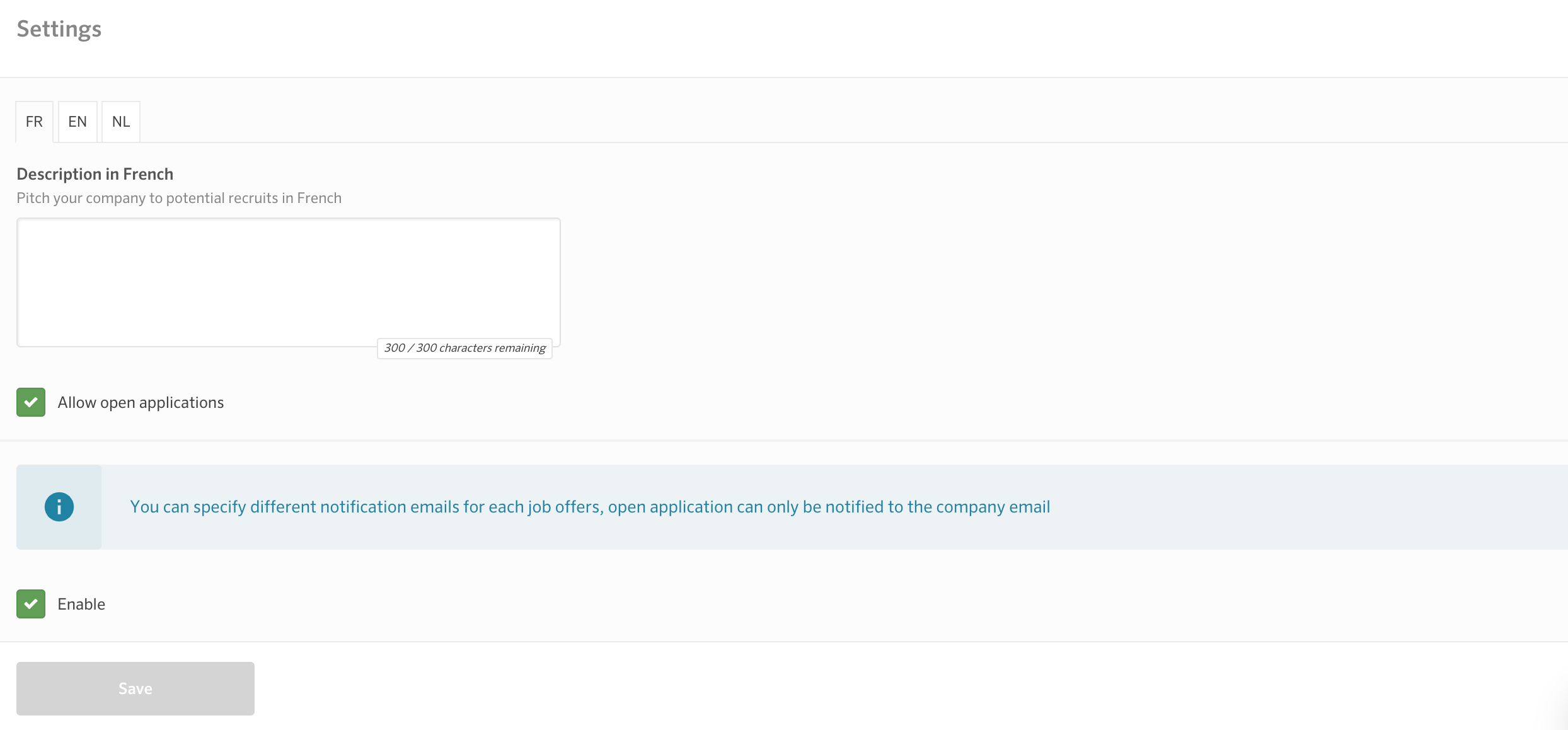 How can I temporarily deactivate a job offer?
You may want to withdraw an offer because you have already received a certain number of applications. However, you do not want to remove the ad as long as no one has been recruited or you want to keep the ad for another time (seasonal for example).
In this case, you have to go to the job offer in question on CentralApp and uncheck the box "Published on my website" which is at the bottom of the page.